Events
Edit Bucket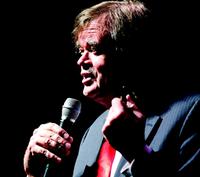 Saturday, November 22, 2014 through Saturday, December 6, 2014
Be in the audience when Garrison Keillor brings "A Prairie Home Companion" to New York for three live shows this fall.
Location:
The Town Hall 123 West 43rd Street (between 6th and 7th Avenues)

Maximum of 4 tickets; one order per purchase. A portion of the available tickets will be on sale from September 23 (starting at 1pm) through September 30 at 6pm.
Tickets: $58 and $64
Edit Bucket

Tuesday, October 14, 2014 through Wednesday, February 4, 2015
WNYC is a media partner of Beyond the Big Bang: Searching for Meaning in Contemporary Physics, an evening lecture series at the New York Academy of Sciences. The second event, The Unification of Physics: The Quest for a Theory of Everything will be held Wednesday, December 10th.

Thursday, December 4, 2014
6:30 PM
WNYC is a media partner of the Brooklyn Historical Society, presenting a look back at what has, or hasn't, happened in the year since New York Times reporter Andrea Elliot's five-part series on childhood poverty in New York City. Moderated by WNYC's Andrea Bernstein. 

Saturday, December 6, 2014
5:00 PM
WNYC is a media partner for Target First Saturdays at the Brooklyn Museum, celebrating Brooklyn fashion and the exhibition Killer Heels: The Art of the High Heeled Shoe.

Monday, December 8, 2014 through Sunday, December 14, 2014
WNYC is a media partner of the Van Alen Institute, presenting a week-long series of tours, talks, and performances exploring the diverse ways we experience coming and going.

Friday, January 23, 2015 through Sunday, January 25, 2015
WNYC is a media partner of The New York Times Travel Show at the Jacob Javits Center.

Saturday, August 2, 2014 through Sunday, November 30, 2014
WNYC is a media partner for The New York Community Trust Nonprofit Excellence Awards. Educating New Yorkers about top management practices in nonprofit organizations. 10 semi finalists were recently announced. 

Join us in The Greene Space at WNYC for live radio shows, concerts, visual arts, debates and much more. Now presenting Lopate and Locavores and The Sporkful: Eat More Better.